1935 Duesenberg SSJ -Coachwork by LaGrande
Date: 2018
Sold: $22,000,000
Estimate: $10,000,000
Considered to be the ultimate Model J Duesenberg, this car has both provenance and rarity, resulting in a record price for an American automobile. One of just two SSJ models built, it has a unique short-wheelbase chassis and a supercharged engine with twin carburetors. It was originally delivered to movie star Gary Cooper and it has had just two owners since 1949, both of them prominent collectors, Briggs Cunningham and Miles Collier. It is in original, unrestored condition, with the original engine, chassis, and LaGrande bodywork that was designed by J. Herbert Newport, Duesenberg's chief designer.
1959 Ferrari 250 GT LWB California Spider Competizione
Date: 2016
Sold: $18,150,000
Estimate $18,000,000 – $20,000,000
Coachwork by Scaglietti. One of just nine aluminum bodied long wheelbase California Spiders. It has disc brakes, headlight covers, and full competition specs with a documented racing history including a 5th overall at the 1960 12 Hours of Sebring race. Complete with books and tools.
1961 Ferrari 250 GT SWB California Spider
Date: 2015
Sold: $16,830,000
Estimate: $16,000,000-$18,000,000
The majority of cars on this list are Ferrari 250 models, and this is one of just 37 short wheelbase California Spiders with covered headlights. Originally Blu Metallizzato over red leather interior, the car is now red over black. Certified and documented.
1962 Ferrari 250 GT SWB Berlinetta Speciale
Date: 2015
Sold: $16,500,000
Estimate: $14,000,000 – $16,000,000
This matching numbers, coachbuilt car has the provenance of two legendary designers. Before opening ItalDesign, Giorgetto Giugiaro worked for Bertone, which is where he penned this tribute to Ferrari's famous "sharknose" F1 cars of the early 1960s. This specific vehicle was also Nuccio Bertone's personal car and it was displayed at both the Geneva and Turin auto shows. The centerpiece of collector Lorenzo Zambrano's collection for three decades, it has won Best of Show ribbons at major international concours. Complete with books, tooks, and certification.
1957 Ferrari 250 Testa Rossa Prototype
Date: 2011
Sold: $16,390,000
The 250 Testa Rossa is one of those cars that actually deserves the term iconic and this pontoon fendered red head was the very first 250 TR that was made. In addition, this Scaglietti bodied roadster was a Scuderia Ferrari team race car with an eight year history of being driven by some of motorsport's greatest drivers on the sport's premier venues. Matching numbers and a documented history from new. The restoration by Dennison International has won numerous awards including First in Class at the 2006 Pebble Beach Concours d'Elegance. Painted in the livery of Ferrari's North American Racing Team (NART) used at the 1958 Le Mans race, the car came with extensive documentation, certification, a race engine and spare parts.
1961 Ferrari 250 GT SWB California Spider
Date:2014
Sold: $15,180,000
Etimate:$13,000,000 – $15,000,000
Another one of just 37 short wheelbase California Spiders with covered headlights, but even though it came with the "rare and desirable" hardtop, and has a "distinguished show car pedigree and celebrity provenance," it sold for $1.5 million less the other SWB California Spiders on this list that sold a year later. It's still good for sixth place.
1966 Ferrari 275 GTB/C
Date: 2017
Sold: $14,520,000
Estimate $12,000,000 – $16,000,000
This matching numbers, Scaglietti bodied berlinetta is the youngest car on the list, having been made just 45 years ago. It is one of just a dozen GTB/C models built and considered the ultimate development of the single cam Ferrari Berlinetta. Although it raced for four years in Italy, taking class and overall wins, it still has it's original chassis, body, and engine. It comes with books, literature, an extensive and documented history, and it even has the original tool roll.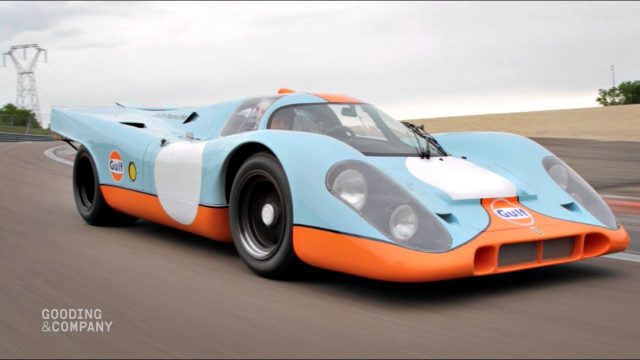 1970 Porsche 917K
Date: 2017
Sold: $14,080,000
Estimate: $13,000,000 – $16,000,000
A half century after it thundered through race courses around the world, the all-conquering Porsche 917 is truly one of the world's great racing cars. This particular 917 likely made this list for a couple of reasons. To begin with, its provenance has been documented since new and includes ownership by Porsche racing legend Jo Siffert. Perhaps more important when it comes to high auction prices, this 917K is associated with the magic words "Steve McQueen." This car was used extensively in the filming of McQueen's movie, Le Mans. It's also finished in the classic light blue and orange Gulf Oil livery.
1960 Ferrari 250 GT SWB Berlinetta Competizione
Date: 2016
Sold: $13,500,000
Estimate: $15,000,000 – $18,000,000
One of the first racing competition short wheelbase Berlinettas built by Ferrari, this 250 GT has a significant racing history including a 7th overall in the 1960 Le Mans 24 hour race. Despite its racing history, it still has it's original aluminum bodywork and numbers matching engine and transmission.
1933 Alfa Romeo 8C 2300 Monza
Date: 2016
Sold: $11,990,000
Estimate: $12,000,000 – $15,000,000
The namesake to the modern Alfa 8C is the oldest car on the list and one of only two prewar cars. It has a numbers matching engine with coachwork by Brianza. This particular 8C was documented in The Legendary 2.3 by Simon Moore and is an accurate example of a late production Series III Monza, considered to be the "ultimate" factory built 2300. It had a long and successful racing career, having been owned and raced by some of Italy's most prominent drivers between 1933 and 1950, including winning the 1947 Sport Nazionale Championship with Renato Balestrero at the wheel. Seventeen years is remarkable span for a racecar to remain competitive. The Alfa Romeo was sold with additional original components and spare parts.